Joined

Jun 4, 2007
Messages

5,706
Location
It was an up-and-down week for our players and our teams. The good news is, Rob Gronkowski achieved his 2[SUP]nd[/SUP] 1,000 yard season with a 3 catch, 96 yard, 1 TD performance in a second half drubbing of a very-Casteon Dolphins squad…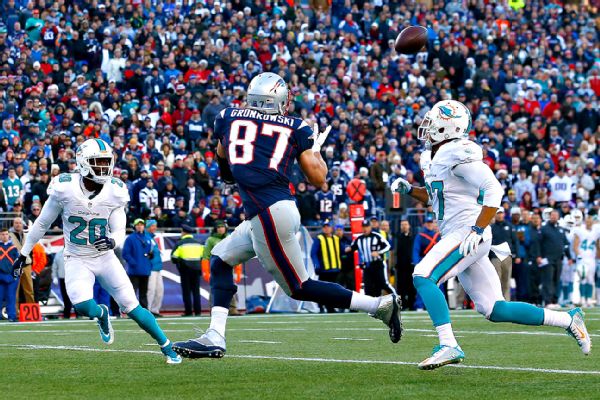 Julian Edelman logged another quality outing (7 catches, 88 yard, TD), putting him a mere 28 yards from his 2[SUP]nd[/SUP] 1,000 yard campaign…
Assuming Edelman passes the mark, New England will become the first team since 2011 to feature two different white pass-catches topping the 1,000 yard mark in the same season. The last team to do it, was, of course, the Patriots (Welker and Gronkowski). Does anyone know who did it previous to this? The 1968 Chargers with white WR's Gary Garrison and Lance Alworth?
The Patriots looked simply awful in the first half (benefitting from fluke turnovers), but our guys came alive from the opening drive of the third quarter. CBS commentator, Ian Eagle, had nothing but compliments for Edelman, Gronk, the all-white OL, and Ninkovich, but perennial Caste Hemorrhoid, Dan Fouts, couldn't muster a single morsel of praise. Speaking of Rob Ninkovich, he notched his 8[SUP]th[/SUP] sack of the season to go along with 3 tackles, 1 TFL, and 1 PD.
As has been mentioned in this thread, Greg Olsen's 110 yard performance has put the veteran TE a mere 40 yards from achieving his 1[SUP]st[/SUP] 1,000 yard season. I think back upon all those years in which Olsen languished behind the pedestrian likes of Desmond Clark and Kellen Davis in Chit-cago, toiling on the plantation of renowned Black Nationalist, Lovie Smith, who employed a terrible offense that stifled the growth of QB's (Orton, Grossman, Hanie, Cutler), all of whom never seemed to look his way, instead haphazardly heaving the ball to Marshall, Hester, Knox, and Bennett. Then Olsen came to Carolina in 2011 (the year "Superman" was drafted), where Steve Smith, Brandon LaFell, and Tedd Ginn significantly ate into his targets. Now, despite the NFL's best efforts to keep his down, at age 29 and in his 8[SUP]th[/SUP] season in the NFL, he's finally permitted to become a top TE…
With Anderson at the helm, the Panthers aren't such a bad team to support. Olsen, Bersin, Kuechly, Klein, Colin Jones, etc. If they win-out and the Swarthy Saints drop one more game, they'll be playoff bound.
Toby Gerhart had 13 carries for 54 yards and 2 catches for 9 yards. It's been a nightmarish season for our guy, but it was to expected on a team with a bad OL, no quality pass-catchers, and a rookie QB. Our best hope is that Toby finishes the season strong, comes back injury-free and splits carries with Robinson.
Did anyone see what Seahawks sumo OL, Russell Okung, did to a trainer on the sideline yesterday? He violently shoved the man (who was likely only asking about his health) after suffering a chest injury. Sadly, I'm certain that this blubbery bastard is one of the most docile members of Wigger Pete's loathsome club…
[video=youtube;0WnIbyRqARI]https://www.youtube.com/watch?v=0WnIbyRqARI[/video]
Can you imagine if a white lineman (say Richie Incognito) did something like this to a black trainer? He'd be immediately kicked off the team, put in jail, turned into a media pariah (again), forced to publically apologize, and sued personally by the trainer for millions.
JJ Watt had 6 tackles, 2 sacks, 2 TFL, and 1 PD. Just another week for planet earth's best football player. Sadly, with a loss, the Texans are likely out of the playoff picture…
The Packers and their star player, Jordy Nelson, had an off day against a tough Buffalo squad. If Green Bay can beat the Bucs and Lions in their final two games, they'll be assured a #2 seed, assuming Arizona wins-out.
The 49ers, lead by Colin Kaepernick, the tattoo-laden, wildly-immature, muscle-smooching, scatter-brained, toucan-nosed quarterback, were eliminated from the playoffs yesterday. After their best player (rookie LB Chris Borland) was injured, the defense immediately deteriorated without him. Thankfully, Borland only suffered a very minor ankle strain and should be ready next week. Hey guys, what word (that appears to start with an "F") do you think Wigger Jim was about to scream before the commercial break… Denver won again [yawns] and Welker's touches went back down to their season average (2-3), but hopefully this extra-super-hyper-African squad loses one of their remaining games to assure the Patriots are the #1 seed. I'd love an early playoff exit for Elways Ethiopians.
Sanchez looked poor again for the Eagles and suddenly Foles can't return soon enough. Cooper, Celek, and Ertz are being stifled in Kelly's offense, which is actually quite ineffective and very boring to watch. Thankfully, Barwin and Matthews continue to shine on defense. This team is as inconsistent as they come and I wouldn't trust them in the playoffs.
Cole Beasley and Jason Witten have both been hot over the past few weeks, so hopefully that continues into the playoffs. Beasley is literally always open. Of course, "Miss Chriss" Collinsworth constantly compares him to Wes Welker, but with his speed and playmaking ability, I'd say he could have similar success to other WR's under 6-ft tall (he has a very similar build to TY Hilton).
Johnny Manziel had a terrible outing, mostly thanks to the Tim Tebow-style offensive play-calling that was employed by his "coaches." Too bad "Marvin X" Lewis didn't eat his words, but hopefully that born-loser will get his soon enough. Unfortunately for the corporate media, Manziel is nothing like Tim Tebow...he's a better passer and runner, and he's a bad boy at heart. He will succeed in the NFL.
Last edited: