here's a
very good article
on Brian's success. i wasn't even aware that he made the ESPN all pro team of the halfway point of the season!
Texans found a real gem.
Former USC 'backers standing out
Led by Cushing, USC linebacking quartet making strong first-year impressions
in NFL Comment Email Print Share By Len Pasquarelli
ESPN.com
Archive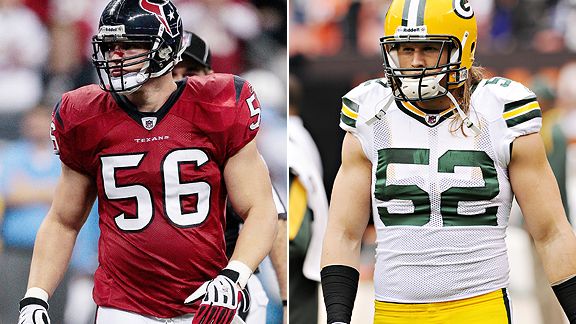 Getty Images
The Texans' Brian Cushing, left, is a leading candidate for defensive rookie of the year honors. Clay Matthews has emerged as a valuable contributor for the Packers.
Better noted historically for producing offensive linemen and skill-position players in the NFL draft, the Southern California football program probably will never be known as "Linebacker U," the celebrated handle long ago awarded Penn State.
But given the early results of the 2009 draft, which included four former USC linebackers, including two in the first round, NFL talent evaluators could make the Trojans' campus a must-stop from now on when assessing linebacker prospects.
"We've had some guys who can play there," said USC coach Pete Carroll, a former NFL head coach, of the linebacker position. "Good athletes, and solid football players, so the [recent successes] haven't been that surprising."
That said, putting four linebackers into the NFL in one year, all of them rookie starters at one point in the season, and with three of the defenders now regulars with their respective franchises, is a pretty remarkable feat. Then again, Brian Cushing (Houston), Clay Matthews Jr. (Green Bay) Rey Maualuga (Cincinnati) and Kaluka Maiava (Cleveland) all appear to be special players.
The quartet has combined to start 33 games through the first 12 weeks of the season. Cushing, a viable candidate for defensive rookie of the year honors, and Maualuga both have started every contest for their teams. Matthews, the son of former NFL standout outside linebacker Clay Matthews and a one-time walk-on at USC, has started eight games for the Packers, after opening the season as a situational pass-rusher.
"I think physically, they were all good [prospects]," Houston Texans coach Gary Kubiak said when asked about the former USC linebackers. "But the most impressive thing, certainly from our standpoint with [Cushing], is their tremendous handling of the mental part of the game. They know football. They've got great football intelligence and instinct. Put that together with the physical side of things, and they just make plays."
The 15th overall player selected in the spring and deemed a starter almost from the moment Texans officials handed in his name to draft officials, Cushing has made more plays from his strongside spot than his former college teammates. Enough, in fact, to have been selected for the ESPN.com All-Pro team at the halfway point of the season.
Unofficially, Cushing has 99 tackles, the third-most in the league, according to NFL.com. Tackles are generally subjective statistics, with the general criteria varying from team to team, but 99 stops is still a lot, regardless of the formula used. Cushing also has 1.5 sacks, three interceptions and nine passes defensed. His three interceptions, including one against Peyton Manning in Sunday's loss to the Colts, are the second-most in the league by a rookie, trailing only Buffalo free safety Jairus Byrd (tied for the NFL lead with eight). Some pro scouts feel that Cushing is already among the five best strongside linebackers in the league.
He and Byrd certainly have separated themselves from the pack in the race for defensive rookie of the year plaudits.
"It's come together pretty nicely for me," said Cushing, whose confidence was often misinterpreted as arrogance in training camp. "There are a lot of elements that have been a struggle, and I still need to get better at some things, don't get me wrong. But I guess it's been pretty good to this point."
Pretty good, indeed.
His former USC teammates haven't been quite as good as Cushing, but all have enjoyed some standout moments as rookies.
Matthews, the 26th overall choice in April, has 29 tackles, five sacks and five passes defensed in 11 games, including eight starts. Among league rookies, only Brian Orakpo of Washington (seven) has more sacks. A second-round pick, Maualuga has started every game at strongside linebacker for the Bengals, and has registered 46 tackles and one sack. In three starts, including two of the past three games, Maiava, a fourth-rounder, has posted 33 tackles, one-half sack and a pass defensed, and been very good on special teams.
That the USC program has turned out four excellent linebacker prospects in the same year, given the caliber of athlete that Carroll typically attracts to the team, should not be all that stunning. Still, the school had produced only two first-round linebackers (Chris Claiborne to Detroit in 1999, and Keith Rivers to Cincinnati in 2008) in the previous 10 years. Cushing and Matthews were off the draft board by the 26th overall choice, and Maualuga was the 38th player chosen this spring. Maiava was the 104th pick.
It's not as if USC has established a strong tradition of standout linebacker play. In the draft classes from 1989 to 2008, the school had only six linebackers chosen in the first three rounds. Junior Seau, a first-round choice in 1990, is probably headed for the Hall of Fame. A second-round pick in 1995, currently injured middle linebacker Lofa Tatupu of Seattle is a three-time Pro Bowl performer. But it's not like the Trojans have been churning out top-level linebacker prospects every year in the draft.
Until this season.
"They've played in big games, in a big-time conference, in front of huge crowds and with a winning program," said Texans four-year veteran middle linebacker DeMeco Ryans, himself a former rookie standout. "So you expect them to do pretty well. But I think they've been even better than advertised."
Len Pasquarelli is a senior writer for ESPN.com.