When making the 2021 WR's Preview Cincinnati's Alec Pierce really stood out. Ended up landing with the Colts in the 2nd Round/53rd pick. The highest pick for a white WR since Jordy Nelson Unfortunately Kyle Phillips was the only other WR selected in the NFL Draft. Not sure 2022 has a WR (yet) that would project as high in the NFL Draft. But there should be several break out candidates.
Cooper Kupp was last year's NFL Triple Crown Winner in Receptions ; Yards Receiving & TD's + Super Bowl MVP out of Eastern Washington ...the ONLY school to offer out of HS!

Gunner Romney
(Sr.) 6'-2" 195 BYU
...stayed for Senior season for "unfinished business" ...So far in his career has 117 receptions ; 1,900 yards ; 9 TD's
fought thru some injuries last season.
Ladd McConkey
(RS Soph.) 6'-0 185 Georgia
3 star prospect out of HS emerged on the scene last season as a redshirt Freshman! Played all 15 games ; Started 7....finished 2nd on team w 31 receptions for 447 yards & 5 TD's
including 5 -135 vs Auburn including a 60 yard bomb over the middle for TD.
Jake Bobo
(Sr.) 6'-5" 215 UCLA (Duke Grad Transfer)
Made an immediate impact this past Spring with his new team
Last season at Duke had 74 catches for 794 yards & TD
*Also Penn transfer Ryan Cragun is a late addition; Two time All Ivy League ; 93 rec for 1,385 yards & 5 TD's
Thayer Thomas
(RS Jr.) 6'-0 195 N.C. State
Former WALK -ON....Career tied for 3rd is school history w 20 TD catches! 158 career receptions ranks 7th in school history, his 1,842 yards ranks 15th ; Pre season 1st Team All ACC Punt Returner (Athlon's)
Brother Drake is a 1st team All ACC LBer at N.C. State
Jack Bech
(Soph.) 6'-2" 215 LSU
Has the "It" factor! Made an immediate impact as a true freshman in 2021, catching a team-best 43 passes for 489 yards and 3 TDs; used as hybrid last season out of necessity ...playing WR only under new Coach this season.
Check out one handed TD catch!
https://twitter.com/espn/status/1439397269904584705
Ricky Pearsall
(Jr.) 6'-1" 200 Florida (Arizona State transfer)
Last season 48 catches for 580 yards & 4 TD's
Can do it all! +10 carries for 78 yards Rushing and 2 TD's + 3 for 3 Passing 111 yards & TD in career
Caught 4 passes for 132 yards at UCLA (Oct. 2) with 54-yard and 65-yard TD's
FF to 1:25
https://www.yahoo.com/video/highlights-daniels-pearsall-star-arizona-063001234.html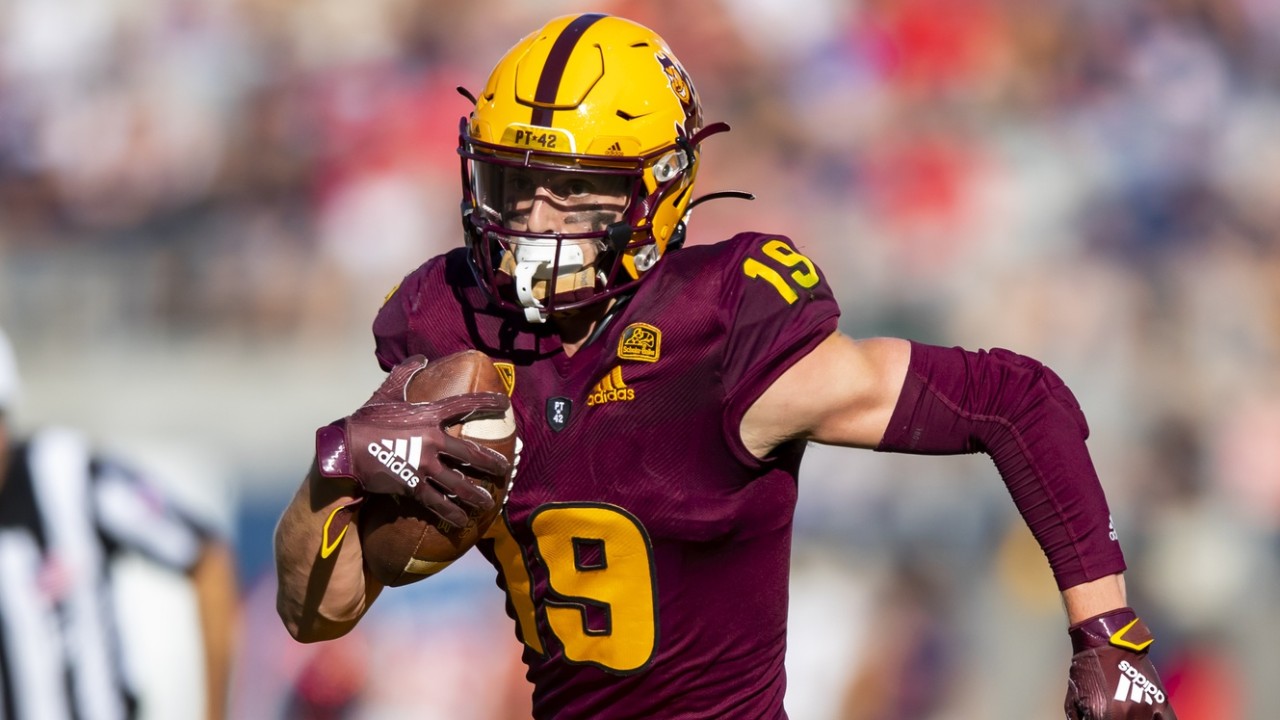 Trent Whittemore
(RS Soph.) 6'-3" 206 Florida
Broken Ankle curtailed last season; had 19 receptions 210 yards(long of 45) & TD + completed 3 of 4 passes for 41 yards & 2 TD's!
As much "upside" as any WR on this list? One NFL Mock Draft had him going Round 4th-6th in 2023
SEC Fall Academic Honor Roll...recruited as a DB out of HS
Taylor Morin
(RS Soph.) 5'-10" 176 Wake Forest
Pre Season Athlon Second Team All-ACC; Quality Punt & Kickoff Returner
Last season 43 receptions for 621 yards & 5 TD's
Redshirt Freshman had 5 rec for 91 yards & TD ( 46 yards) vs Wisconsin in Bowl game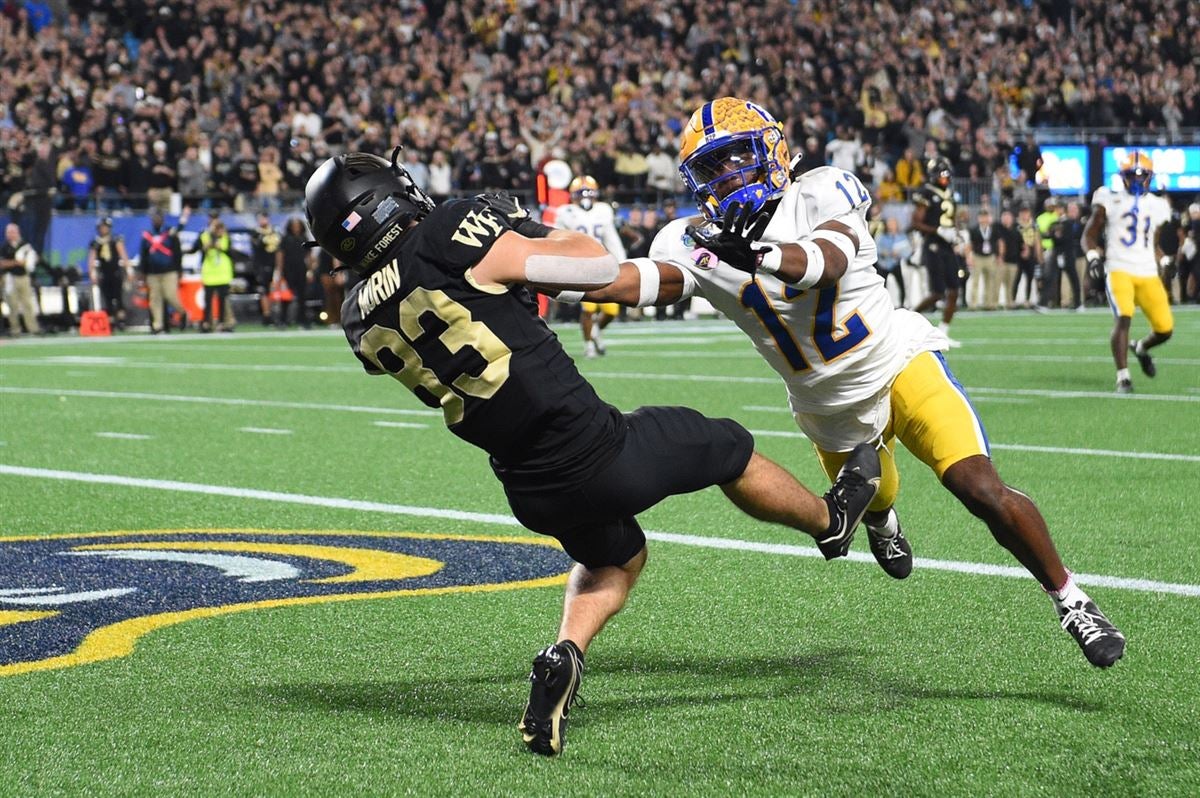 Charlie Jones
(Sr.) 6'-0 188 * Purdue ( transfer Iowa) WOW! *EDIT* Thanks Leonardfan
1st Team All-Big Ten return specialist by league coaches and media
Career 39 receptions for 718 yards yards & 6 TD's.
Has the look of an NFL Return Specialist!
Chase Cota
(Sr.) 6'-3" 209 Oregon (UCLA transfer)
Has adjusted to new program quickly! In Spring game was Green team's leading receiver with 6 rec for 100 yards
Career at UCLA 67 receptions for 883 yards & 6 TD's ; would be curious to see how he would do playing DB!
Dad Chad was a starting DB in the NFL
Cole Tucker
(Sr.) 6'-2" 195 Northern Illinois
110 career receptions ; 1, 398 yards & 6 TD's
Have a total of 25 WR's on my list ....posting 11 WR's here tonight for now. 14 more to go....i'm sure Red Raider and others have them and more!
Last edited: