Trying to keep a tradition alive ; too many pics i was able to Copy/Paste in the past are now TOO LARGE . Very frustrating and disappointing ! Settled for some of the smaller pics.
The EXACT "Shipley" picture posted in 2021 RB thread...is TOO LARGE NOW! But just found a good one he's leaping over a Tennessee defender in the ORANGE Bowl!
Maybe this issue can get resolved sometime this Summer before Football season starts
Will Shipley
(Jr) 5'-11" 205 Clemson
One of the nation's most dynamic and versatile running backs who enters 2023 with 1,920 yards and 26 touchdowns on 359 career rushing attempts and 358 yards on 54 career receptions in 1,024 offensive snaps over 24 career games (19 starts) … also enters 2023 credited with 27 career kickoff returns for 704 yards (26.1 avg.
.

Carson Steele
(Jr.) 6'-1" 225 ...UCLA (Ball State Transfer)
Pre-Season 2nd Team All PAC 12 Athlon's magazine!
Last season 1,556 yards rushing ; 14 TD's
has impressed Bruins coach Chip Kelly with his toughness and work ethic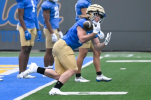 Cody Schrader
(Grad) 5'-9" 214 Mizzou (Former WALK-ON/ Transfer Truman State)
Started 11 of 13 games last season; 774 yards rushing; 9 TD's; (long of 63)
2021 D II-leading 2,074 rushing yards on 300 carries, including 24 touchdowns!

Samson Evans
(Grad) 6'-0 218 Eastern Michigan
Rushed for 1,166 yards last season & 15 TD's. Has 29 career TD's
Had one of the best games 258 yards rushing on 36 carries vs Arizona State ; Coach Herm Edwards got fired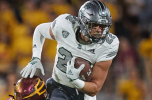 Cameron Skattebo
(Jr) 5'-10" 222...Arizona State (Sacramento St Transfer)
Stole the show in the Spring game!
2022 Big Sky Conf. Player of the Year running for 1,382 yards & 7 TD's. + 371 yards receiving & 3 TD's. 7 yards per carry ranked 7th among FCS players.
Check em out doing a back flip on the sidelines
Arizona State running back Cameron Skattebo got a chance to show off Saturday during the Sun Devils' spring game. And show off he did.
saturdayoutwest.com
Lincoln Pare
(Jr.) 5'-9" 195 Texas State
Team's leading rusher with 772 rushing yards ; 6 total TD's (5 rushing ; one receiving) Last game of the season vs. UL-Lafayette had 221 yards rushing! 29 carries & TD......began career at Arkansas State

Victor Rosa
(Soph.) 5'-11" 198 U.Conn
As a Freshman ran for 636 yards & 11 TD's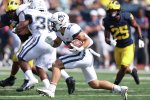 pic too small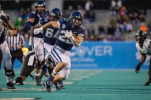 Feel free to add more RB's. Maybe you will have more success posting PICS Large enough
Will get Filkins and others later
Last edited: