Joined

Jan 3, 2009
Messages

4,743
I was looking through some old posts a while back, and came across one by Jimmy Chitwood, detailing a CF mid-season All-American team. Having a bit of time on my hands, I decided to write a similar post for this year. These teams and players aren't based on hype or potential, they're based on production and the value of the player to their respective team. Each of these guys is an integral part of their teams, guys that they can't win without. A lot of these selections were very hard to make, and some deserving guys were left off. Let me know what you think of the list and if you think I missed somebody!
First Team
PG – Eric Garcia, Wofford (6'0 185 lbs. Senior)
One of the best point guards in the country, and a guy that is definitely under the radar, Eric Garcia is the engine that makes Wofford run. Offensively, he's the complete package. He's first on his team in assists by far, and is averaging 5.3 per game. Even more impressive, Garcia is sporting a 4.63 assist to turnover ratio, good for 3rd in the country! Garcia has picked up his scoring this year, jumping from 10 to 13 PPG, which is 2nd on the team. He's been a very efficient scorer, shooting 52% from beyond the arc, and over 50% from the field! Garcia is also among the nation's leaders at the charity stripe, 2nd in the country at nearly 98%, only missing one of his 43 attempts all year! He's also a solid defender.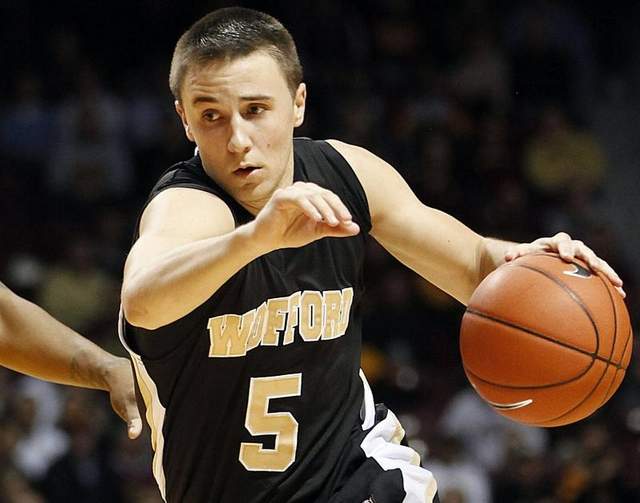 SG – Luke Kennard, Duke (6'6 202 lbs. Sophomore)
Simply put, Kennard is the Alpha of Duke basketball this year. Night in and night out, Kennard carries the Blue Devils on his back to victory. Originally expected to be an afterthought this year with the arrival of "better players," Kennard has shut his haters up with a Player of the Year worthy campaign so far. He leads Duke (and is 2nd in the ACC) with 21.4 PPG this year, including a 34 point outing in their loss at Virginia Tech. He's making over 52% of his shots from the field and sports an 87% free throw percentage. Kennard has really expanded his game for his sophomore campaign, and he scores in a variety of ways, creating his own shot, shooting threes, and driving to the bucket. He's not just an offensive player; he's 3rd on the team in rebounds with nearly 6 per game, and is 2nd on the team in steals.
F – Alec Peters, Valparaiso (6'9, 235 lbs. Senior)
Alec Peters is the best college basketball player you've never heard of, usually mired in obscurity playing for the Horizon League based Crusaders. He is second in the nation in scoring (25 PPG), and scores in a variety of ways, from beyond the arc, to working in the paint, to the charity stripe (where he is shooting over 90%). Peters is Valpo's entire team this year, leading them in rebounding as well with 10.4 per game. He was highly sought after by high-majors, and can no doubt play at the next level. Hopefully, the Crusaders will be able to make the NCAA tournament and allow the nation to get a glimpse of his talents.
F - TJ Leaf, UCLA (6'10, 225 lbs. Freshman)
The high-flying Leaf is the Bruins' leading scorer (17.5 PPG) and is nearly tied for the team lead in rebounds (nearly 9 per game). While his teammate Lonzo Ball is hyped up as UCLA's best player, Leaf is just as instrumental in the high-scoring Bruins' success this year. This guy is an amazing athlete who is very efficient, leading UCLA in FG percentage, making nearly 66% of his shots. Even though he doesn't take many three's Leaf makes them when he does, converting 49% of them. Leaf is a great athlete on both ends of the floor, and may make the jump to the NBA after this year.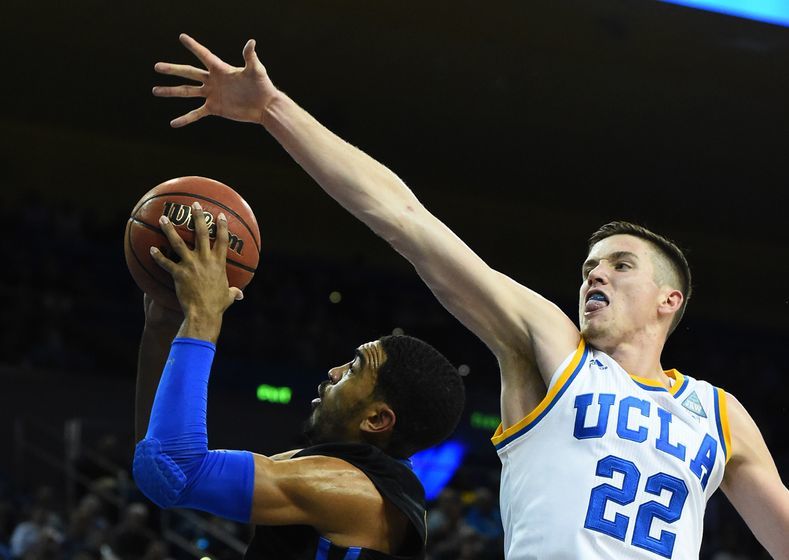 C – Jock Landale, St. Mary's (6'11 255 lbs. Junior)
Landale is the literal centerpiece of the St. Mary's Gaels this year. He has exploded onto the scene this year after playing a reserve role last year. Landale leads St. Mary's in both scoring (17.6 PPG) and rebounding (9.6 RPG). He's mostly a below the rim player, but he's great at what he does, converting nearly 64% of his shots from the field. Landale's hot start has earned him some talk in the National Player of the Year conversation, something that is well-deserved, and lands him on the first team.
2nd Team
PG – Matt Farrell, Notre Dame (6'1, 178 lbs. Junior)
One of the breakout players of the season, Farrell has stepped into the point guard role full time this season, and has produced. Farrell's production has jumped nearly 11 points this year, from 2.6 to 13.4 PPG, good for fourth on the team this year. He's great at creating his own shot, and is not afraid to pull the trigger. He's a great distributor to his teammates, recording 5.6 assists per game, which is among the best in the country. Farrell is also a good defender, nearly tied for the team lead in steals with 1.2 per game.
SG – Bryce Alford, UCLA (6'3 185 lbs. Senior)
The leader of the UCLA Bruins is enjoying a fine senior campaign. Alford is the 2nd leading scorer on UCLA (16.3 PPG) after Leaf, but he's just as valuable to the Bruins' success. Now playing off the ball, Alford is enjoying his best season yet. He's a volume shooter, and this season, he's been much more efficient; in fact, he's shooting nearly 9% better from the field this year (47%). Alford has taken on much more of a shooting role this season. Team's know what's coming (Alford has the made the most threes in the Pac-12 this year), and they still can't stop him. More often than not, Alford has been the leader scorer in many Bruins games this year.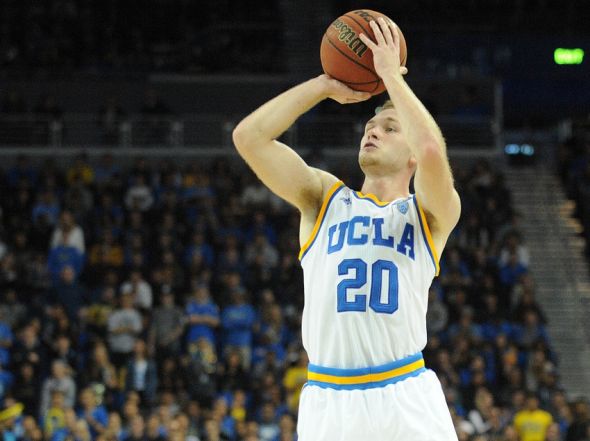 F – Peyton Aldridge, Davidson (6'8, 225 lbs. Junior)
Davidson's Peyton Aldridge is one of the most versatile and productive players in the country, averaging 20.8 PPG (2nd on Davidson, and 3rd in the A10). He does a variety of things for Davidson, and has really emerged this year as a multi-level threat. Aldridge is 1st on Davidson and 7th in the conference in rebounding at 7.1 per game. Davidson moves Aldridge all over the place, and he produces. Like many on this list, Aldridge is very efficient at scoring, among the conference leaders in both FG% (52%), free throws (83%), and 3 point percentage (43%). Aldridge can also defend, averaging a block per game.
F- Lauri Markkanen, Arizona (7'0, 230 lbs. Freshman)
In perhaps the hardest decision for the teams, TJ Leaf edged out Markkanen for the top forward spot; thus, Markkanen is an easy pick for 2nd team. Markkanen is a complete player, and is easily the best man on the Wildcats. He leads Arizona in scoring (15.9 PPG), rebounding (7.5 RPG), and 3 point FG% (42%). He's a hell of an athlete who's getting better every single game. Even with still adjusted to college ball, Markkanen is one of the best in the nation, even getting credit from ESPN. He can play inside or outside, and can score from anywhere on the floor. If he declares, Markkanen will be a likely lottery pick.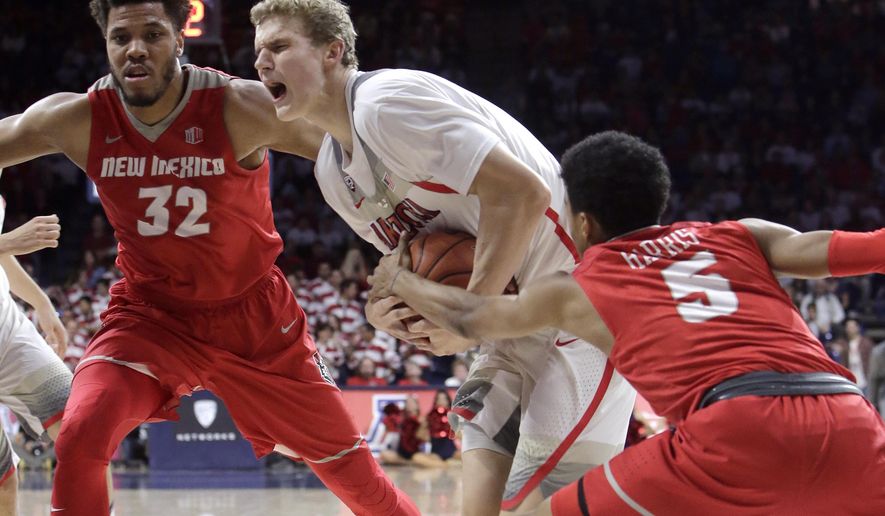 C – Ben Lammers, Georgia Tech (6'10, 227 lbs. Junior)
One of the most underrated players in the country, Lammers is an absolute beast for the Yellow Jackets. He leads the team in scoring (14.6 PPG) rebounding (also 3rd in the ACC at 10 per game), FG percentage (also 4th in the ACC at 59%), and also blocked shots (4th in the nation at 3.6 per game!) Lammers is the complete package, carrying a below-average Georgia Tech team on his shoulders. He's really broken out in his junior campaign thus far, and will be a force to be reckoned with in the ACC.
Guys who were also considered:
F/C Ethan Happ, Wisconsin (6'10, 232 lbs, RS Sophomore) – A monster in the paint, Happ playing well is a must for the Badgers to continue to win at a high level. He's third on the team with 12.7 PPG, first on the team and 2nd in the conference in rebounding at 9.6 per game, and 2nd on the team in assists, with 2.7 per game. Happ is great at scoring; he's second in the conference with a 67% FG percentage.
Combo Guard Steve Vasturia, Notre Dame (6'6 212 lbs. Senior) – Vasturia has been a great player for Notre Dame, and his having his best campaign yet as a senior. He has emerged as the leader for the Fighting Irish, and is proving it with his great play. Vasturia is 3rd on the team in scoring (14.4 PPG), is tied for the team lead for steals (18), and his second on the team in assists (46). He's one of the best in the country at the charity stripe, shooting a 93% clip. A player who is great at both offense and defense, it's safe to say Vasturia is the heart of the Irish this year.
F Mike Daum, South Dakota State (6'9 245 lbs. Sophomore) – A player who broke out as a freshman, Daum was expected to transfer to a high-major program following the departure of long-time coach Scott Nagy, but he opted to return to the Jackrabbits. While South Dakota State has not been as good as the last couple of years, Daum is trying to get them back on track. He's one of the national leaders in scoring at 22.5 PPG (which also leads the Summit League). Daum also is first on the Jackrabbits in rebounds (8.1) and FG% (52%). He's nearly automatic with free throws shooting over 89% from the charity stripe. Daum is surprisingly agile for his size and can score in different ways around the basket, not to mention scoring from beyond the arc (40% shooter). If SDSU makes the tournament this year, Daum will be the main reason why.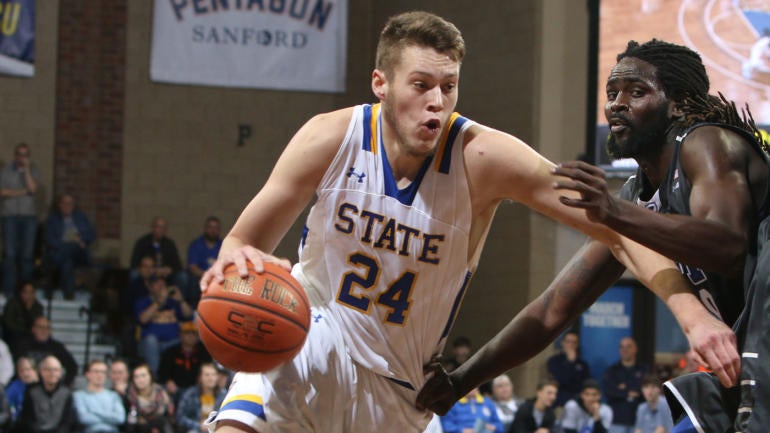 F Andrew Chrabascz, Butler (6'7, 230 lbs. Senior) – Chrabascz is a very unique player in college basketball, one of the most versatile forwards in the country. A below the rim forward, he is indispensable to the No. 13 Bulldogs, who run their offense through him (making him a point forward at times). If Chrabascz is involved, good things happen for Butler. He has great vision, and is very slippery and agile in the paint, consistently scoring around his defender with a variety of moves. Did I mention that he can shoot threes as well? Chrabascz has gotten better every year, and now he is the key to the offense for Butler. He's second on the team in scoring (12 PPG), second in rebounding (5 per game), second in assists (2.9 per game), and first in 3 point percentage (46% on 28 attempts).
F Tim Kempton, Lehigh (6'10, 245 lbs. Senior) – Kempton is everything for Lehigh basketball this year. He leads the Patriot League in scoring (21.3 PPG) and rebounding (10.5 per game), while taking 2nd in the conference in blocks with 1.3 per game. I'll be looking forward to seeing him in the NCAA tournament; he has the potential to spring an upset or two with the Mountain Hawks.
Five more freshman to watch:
Jordan Bohannon – PG, Iowa
Payton Pritchard – PG, Oregon
Kevin Huerter – G, Maryland
Sam Hauser – F, Marquette
Zach Collins – C, Gonzaga
One last note: I left Thomas Welsh and Grayson Allen off (both of whom otherwise would've made the cut somewhere in all likelihood), due to them missing games through injuries and suspension.
Last edited: