Joined

Jun 4, 2007
Messages

5,706
Location
In the "best case scenario," I believe that New England will keep around 23 whites, 10 of whom are starters. I've listed the players that I believe will make the squad based upon pre-season observations and articles by "experts" that I've read over the past few weeks. Offensive/defensive starters are in bold...
QB –
Brady
, Mallet, Garrappolo
RB –
Develin
­
WR –
Edelman, Amendola
TE –
Gronkowski
OL –
Solder, Mankins, Wendell, Connolly, Vollmer
, Kline, Devey, Stork
DL –
Ninkovich
, Bequette, Vellano
LB – White
S – Ebner
P - Allen
K - Gostowski
LS - Aiken
On offense, the amount of offensive linemen kept on the roster is unknown, and it wouldn't surprise me if a veteran like Dan Connolly was cut. Unfortunately, thanks to their perennial all-black drafts, New England now has 3 non-white OL (Flemming, Cannon, Halapio) who'll likely make the squad. It would be nice to see back-up TE, Steve Maneri, make the squad, but it's unlikely.
Defensively, Jake Bequette could easily be cut, as he's been a bust in his first 2 seasons. He's only dressed for a handful of regular season games, and has been invisible in all three pre-seasons. LB Chris White should be safe as Mayo's primary back-up and so should "White Special Teams Ace," Nate Ebner, who's had a strong pre-season. Joe Vellano is more likely to stick with the recent release of Tommy Kelly.
The reason for New England's slight downtick in white roster spots this season isn't very complicated…nearly all-black drafts coupled with the team parting ways with many white starters/back-ups over the past 2-3 seasons. Off the top of my head: Wes Welker, Danny Woodhead, Steve Gregory, Matthew Mulligan, Dane Fletcher, Trevor Scott, Dan Koppen, Ross Ventrone, Nick McDonald, Niko Koutouvides, Jeff Tarpinian, and Austin Collie.
Of course, with Brady, Edelman, Amendola, Gronkowksi, Develin, an all-white OL, and a lack of black talent at RB and WR, we couldn't possibly hope for a least Casteon offense...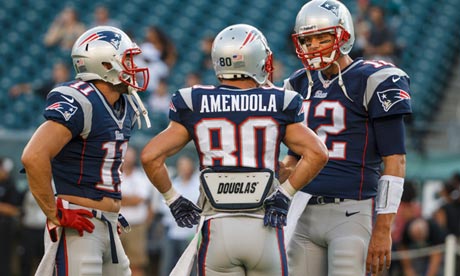 On defense, there is Ninkovich and Vellano could start, also. Without injuries, Chris White and Nate Ebner are unlikely to play on defense...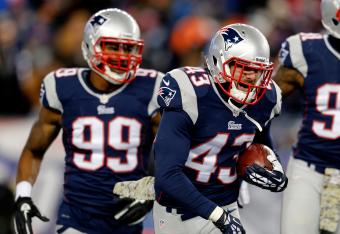 CAPTION: Ebner INT During 2014 Pre-Season
Last edited: