Joined

Sep 19, 2012
Messages

2,023
Location
I'm creating this thread to be a catch-all for USMNT updates. I find myself frequently mentioning in other soccer threads that the USA roster has been racially replaced. Despite a massive, steady influx of hispanic immigrants, the team always features a preponderance of blacks. This thread will be for focusing on the promising white players still in the ranks and discussing their roles. However, I'm going to start with some team history to put the current state of affairs into perspective.
The
1990 World Cup
marked the first year the USA qualified to participate in 40 years. The roster of 22 included 2 blacks (Jimmy Banks, Desmond Armstrong) and 20 whites. Tab Ramos was a naturalized Uruguayan.
The 1994 World Cup team of 23 featured 2 blacks (Cobi Jones, Earnie Stewart), 1 hispanic (Hugo Perez), and 20 whites. This tournament was held across the United States and was the catalyst for lots of investment in American soccer infrastructure, from the formation of its professional league (MLS) to the creation of youth academies. MLS was formed with a very restrictive salary cap save for its Designated Player exceptions, and the vision was always to grow the league slowly and to avoid large-market dominance. There was also a cap on foreign players per team, which has been malleable but still remains to this day, with the stated intent of growing the domestic pool of talent.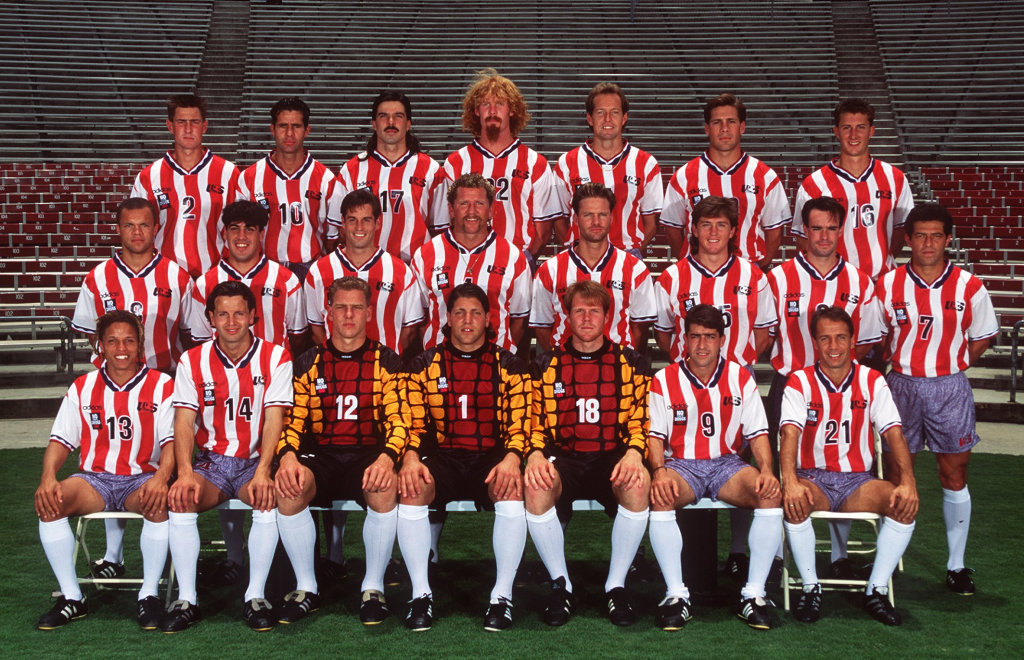 The
1998 World Cup team
of 22 included four blacks (Eddie Pope, David Regis, Earnie Stewart, and Cobi Jones) and 18 whites. Pope and Jones had gone through the collegiate ranks, excelling at big schools, whereas Regis and Stewart were foreign-born and grew up playing in Europe.
The
2002 team
of 23 was comprised of 17 whites and 6 blacks (Tony Sanneh, Eddie Pope, Carlos Llamosa, David Regis, Cobi Jones, and DaMarcus Beasley). While Llamosa was naturalized late in the game, as he had no chance of playing for Colombia, Sanneh and Beasley were born in the USA and ascended through college soccer as well.
In
2006
, things were still rather 'business as usual' in terms of the racial composition of the player pool. The World Cup roster of 23 featured 17 whites, 6 blacks (Tim Howard, Eddie Pope, Oguchi Onyewu, DaMarcus Beasley, Eddie Johnson), and 1 Asian (Brian Ching, mixed Hawaiian/Chinese). Tim Howard (black father white mother) caught the fancy of global club powerhouse Manchester United, and was brought over at a relatively young age to be groomed as their full-time keeper. This began a twelve-year reign as national team starter. Howard and Eddie Johnson, a forward, were the first black players to start at their respective positions for the USA in the competition. Despite the Mexican immigration rhetoric in the public sphere, there were no Hispanics representing the USA at the international level.
In
2010
, the thumb on the scale began to manifest. The USA fielded a team of 23 with 9 blacks (Tim Howard, Oguchi Onyewu, Clarence Goodson, DaMarcus Beasley, Ricardo Clark, Maurice Edu, Edson Buddle, Robbie Findley, Jozy Altidore) and 2 mestizos (Franciso Torres, Herculez Gomez). All four forwards were non-white. The team counted two Jewish players in its ranks for the first time (Benny Feilhaber and Jonathan Bornstein).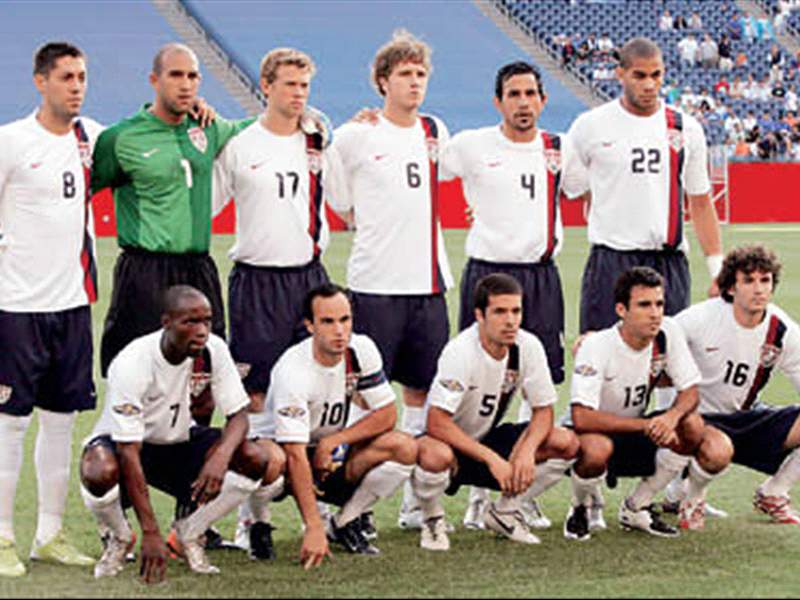 German-born internationalist coach Jurgen Klinsmann led the team in 2014. His celebrity within the sport granted him rather unprecedented freedoms within the US Soccer power structure. While there had always been naturalized players included on the squad, Klinsmann incorporated "recruiting" as a practice.
The final 2014 World Cup team
of 23 had 11 whites, 9 blacks (Tim Howard, DeAndre Yedlin, John Anthony Brooks, DaMarcus Beasley, Tim Chandler, Fabian Johnson, Jermaine Jones, Julian Green, Jozy Altidore) and 3 mestizos (Nick Rimando, Omar Gonzalez, Alejandro Bedoya). Again, two Jewish players were included in Yedlin (Jewish mother) and Kyle Beckerman. Whites were a majority-minority for the first time, and amongst the black players were five German-raised mulattos (Chandler, Johnson, Jones, Brooks, and Green) who spoke varying degrees of broken English. This was the first time that a player who had never lived in the United States would play for the nation. It softly raised questions of nationalism expressed as "allegiance" and "dedication" in the limited American soccer press. Klinsmann also excluded longtime captain and team talisman Landon Donovan to include the 18 yr old Green. While it remains common practice for overmatched international teams to include their veterans, Klinsmann opted for the modern selection approach of elite nations. The team was not successful.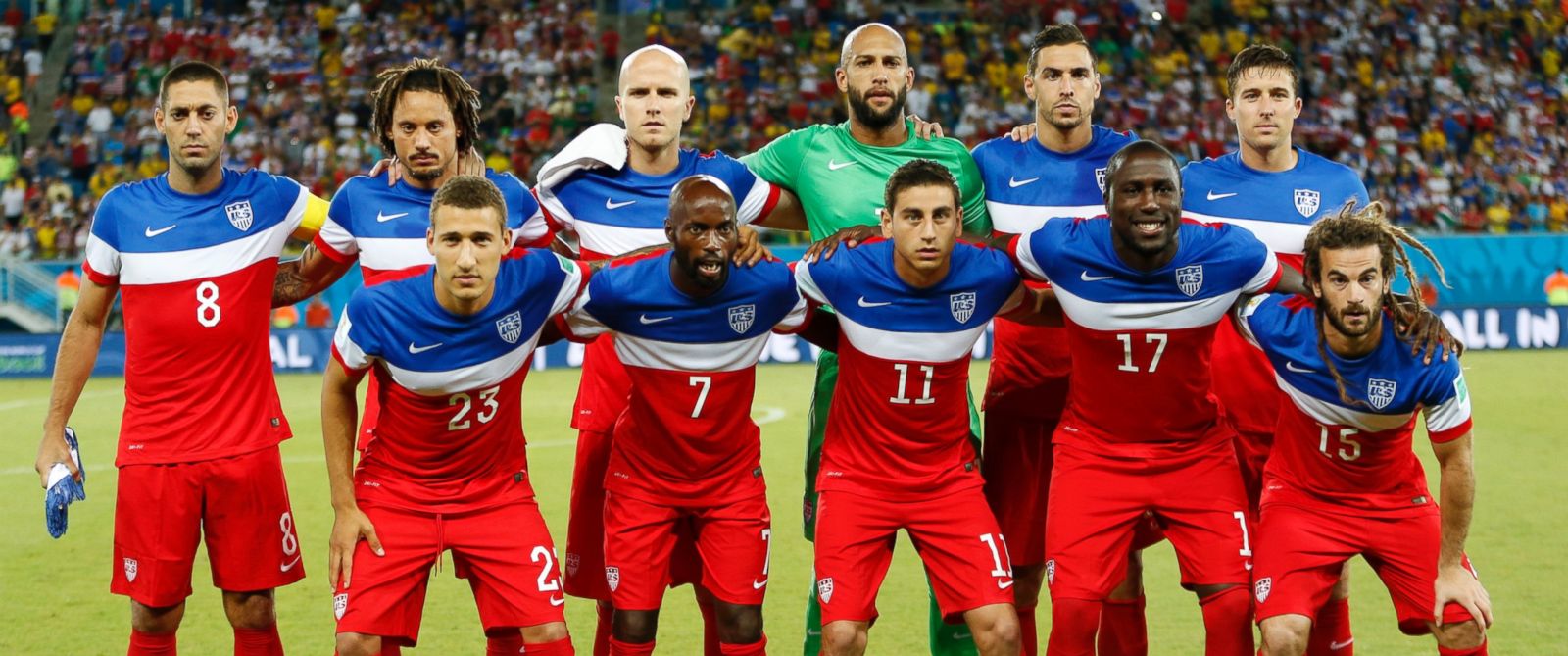 The United States failed to qualify for the World Cup in 2018. Klinsmann was fired in 2017 during the qualifying games, and placeholder coach Bruce Arena did not manage to undo the mistakes of his predecessor in terms of team cohesion, roster construction, and attitude. Despite all the billions of dollars in investment infrastructure, an increasingly competitive domestic league, and a new focus from European clubs on prospect signings, the USA crashed out in the group qualifiers, finishing behind Mexico, Costa Rica, Panama, and Honduras. This embarrassment was finalized in the last of the ten-game "hexagonal" playoff, as the team lost to Trinidad and Tobago, an island nation with a population of 1.3 million and eight losses in its first nine matches.
The T&T loss was surrendered by a US team with just four white starters
, and the roster of 23 included 12 whites, 7 blacks (Tim Howard, DeAndre Yedlin, Darlington Nagbe, Jozy Altidore, Bobby Wood, DaMarcus Beasley, Kellyn Acosta), and 4 mestizos (Omar Gonzalez, Jorge Villafana, Nick Rimando, Alejandro Bedoya).
a notably asinine marketing slogan
The current head coach is Gregg Berhalter, who was seen as a safe but unspectacular choice after a long stretch of success in the MLS ranks. He was tasked with pushing out the older players (not tough with this group) and ushering in the next generation, so to speak. Covid restrictions have pushed back the start of 2022 CONCACAF qualifying and changed the format to allow more nations to play each other. Since the MLS recognizes international dates but plays March-through-November rather than the traditional September-through-May, Berhalter has not been forced to nail down a true first team just yet. Based on previous rosters, camp call-ups, and selection trends, the USMNT will be minority white in the immediate future and average about five white starters at a time.